Warning – Level 3, Avoid Nonessential Travel
Alert – Level 2, Practice Enhanced Precautions
Watch – Level 1, Practice Usual Precautions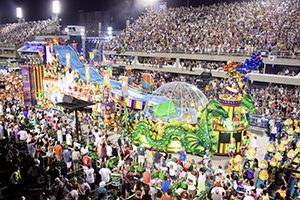 Carnival is the seasonal celebration that precedes the Christian observance of Lent. It is often marked by parades, festivals and indulgence — eating, drinking, and dancing the night away. Some of the most popular international Carnival celebrations take place in Rio de Janeiro, Brazil; Nice, France; Venice, Italy; Cologne, Germany; Quebec, Canada; and Trinidad and Tobago.
Carnival dates vary by location, but the celebration often starts the Friday before the beginning of Lent (Ash Wednesday). The last day of the celebration is called Mardi Gras, or "Fat Tuesday." In 2017, Carnival festivities at many destinations will begin on Friday, February 24, and go through Tuesday, February 28.
Although these celebrations are fun, they can also be associated with health risks, such as excessive drinking, unsafe food, risky sex, heat-related illnesses, and crime. Malaria and other tropical diseases may be common, depending on the country. Zika virus also is present in many destinations in South and Central America and the Caribbean, including Brazil.
Because Zika can cause serious birth defects in babies whose mothers were infected during pregnancy, pregnant women should not travel to areas with Zika. Check CDC's Zika Travel Information page to see if your destination is listed. CDC also has extensive information about protecting yourself during pregnancy. Additionally, if you are considering pregnancy in the near future, you should consider avoiding areas with Zika and talk to your doctor or healthcare provider before making travel plans.
What can travelers do to stay healthy and safe during Carnival?
If you plan to travel outside the United States to celebrate Carnival, you can take some simple precautions to help you stay safe and healthy.
Before your trip
Schedule an appointment with a doctor or healthcare provider as soon as possible before your trip – ideally 4 to 6 weeks before you leave. Talk to your doctor or nurse about vaccines and medicines recommended for your destination and any potential health issues you may encounter. Travelers who want to reduce their risk of seasonal flu should receive the flu vaccine before their trip. See the Travel Clinics webpage for help in finding a travel medicine clinic near you.
Pack a travel health kit.
Research your destination, including local laws, customs, and culture. For example, it is illegal for anyone in Trinidad and Tobago to wear military or camouflage clothing. People dressed in camouflage risk being detained and having the garments confiscated.
Monitor travel warnings and alerts from the US Department of State.
Enroll in the Smart Traveler Enrollment Program (STEP).
Leave a copy of your itinerary, contact information, credit cards, and passport with someone at home.
During your trip
Follow security and safety guidelines. Travelers may be targets for criminals during mass gatherings.

If possible, don't travel at night, avoid questionable areas, and travel with a companion.
If you drink alcohol, do it in moderation. Drunk people are more likely to hurt themselves or other people, engage in risky sex, or get arrested.
Carry a copy of your passport and entry stamp; leave the actual passport securely in your hotel.
Carry the contact information for the nearest US embassy or consulate and the emergency service numbers for your destination.
Follow all local laws and social customs.
Do not wear expensive clothing or jewelry.
Always keep hotel doors locked, and store valuables in secure areas.
If possible, choose hotel rooms between the second and sixth floors, due to security and fire safety reasons.

Prevent mosquito bites and use insect repellent. Diseases spread by mosquitoes, such as malaria, dengue, Zika, and chikungunya, are common throughout tropical and subtropical regions. Read more about ways to prevent bug bites by visiting the Avoid Bug Bites page. You may also need to take prescription medicine to protect against malaria. Talk to your doctor or healthcare provider about prevention steps that are right for you and your destination. See the Travel Notice webpage for specific outbreaks by location.
Pregnant women should not travel to areas with Zika. Learn more on the CDC's web page about Zika and pregnancy.
Follow food and water safety guidelines. Eating contaminated food and drinking contaminated water can cause illnesses such as hepatitis A, typhoid fever, and travelers' diarrhea. Learn how to prevent these diseases by visiting the Safe Food and Water page. Beware of food from street vendors, ice in drinks, and other foods and drinks that may be contaminated and cause travelers' diarrhea. Download our free app, "Can I Eat This?" to help you make safe food and water choices during your trip.
Follow guidelines for hot climates. Dehydration and heat-related illnesses are common during Carnival in tropical countries or the Southern Hemisphere, where February and March are summer months. Drink plenty of (bottled!) water, keep cool, and wear sunscreen. Read more about how to prevent these conditions by visiting the Travel to Hot Climates and Sun Exposure pages.
Reduce your risk of sexually transmitted diseases (STDs). The "anything goes" atmosphere of many Carnival celebrations can encourage travelers to engage in risky sex, especially if alcohol or drugs are involved. Carry condoms that you purchased in the United States and that have been stored appropriately. Read more about how to prevent these conditions by visiting the Traveler STD page.
Prevent sexual exposure to Zika. To avoid sexual transmission of Zika, use condoms every time you have sex, or do not have sex with a partner who has traveled to or lives in areas with Zika.
Choose safe transportation. Motor vehicle crashes are the #1 killer of healthy US citizens in foreign countries. Read about ways to prevent transportation injuries by visiting the Road Safety page.
Reduce your exposure to germs. Wash your hands often, and avoid contact with people who are sick. Read more about reducing your exposure to germs in the Stay Healthy and Safe section of the destination page.
If you feel sick during your trip
Talk to a doctor or nurse if you feel seriously ill, especially if you have a fever.
For more information about medical care abroad, see Getting Health Care Abroad.
Avoid contact with other people while you are sick.
After your trip:
If you are not feeling well after your trip, you may need to see a doctor as soon as possible. If you need help finding a travel medicine specialist, see Find a Clinic. Be sure to tell your doctor or healthcare provider about your travel, including where you went and what you did on your trip. Also, tell your doctor or healthcare provider if you were bitten or scratched by an animal or insect while traveling.
If you are pregnant and have traveled to an area with Zika, talk to your doctor or healthcare provider as soon as possible about your recent travel, especially if you developed a fever, rash, joint pain, or red eyes during your trip or within 2 weeks after traveling to a country where Zika virus cases have been reported. CDC has issued guidance to help doctors decide when to test for Zika virus. For more information, see CDC's page on Zika and pregnancy.
Many people infected with Zika or other viruses like dengue and chikungunya do not feel sick. If a mosquito bites an infected person while the virus is still in that person's blood, it gets infected and can spread the virus by biting other people. If you travel to an area with Zika, dengue, or chikungunya, you should take steps to prevent mosquito bites for 3 weeks after your trip. Even if you don't feel sick, you can spread these viruses to uninfected mosquitoes that can spread the virus to other people through bites.
Zika virus can also be spread through sex. Use condoms every time you have sex or do not have sex after your return, even if you do not feel sick. See the CDC page Protect Yourself During Sex for guidance about how long to use condoms or not have sex after travel.
Malaria is always a serious disease and may be deadly. If you become ill with a fever either while traveling in a malaria-risk area or for up to 1 year after you return home, you should seek immediate medical attention and tell your doctor or healthcare provider about your travel history.
If your doctor prescribed antimalarial medicine for your trip, keep taking your pills after you return home. If you stop taking your medicine too soon, you could still get sick.
For more information, see After Your Trip or Getting Sick after Travel.
Source: Travel Health