The Mosquito-borne Zika virus has become increasingly a topic of travel concern. Travelers in Latin America and the Caribbean are advised to take extra precautions against the virus. It can cause microcephaly. Microcephaly is a serious birth defect that causes babies to have abnormally small heads and brain damage. Researchers don't yet know the rate at which infected women have babies with birth defects.
The virus is mainly spread to humans through infected mosquitoes. It can also be sexually transmitted through semen. There is no vaccine or specific treatment available for Zika virus.
What is the current Zika Travel Situation?
As of May 4, 2016 (5 am EST)
Zika virus disease and Zika virus congenital infection are nationally notifiable conditions.
This update from the CDC Arboviral Disease Branch includes provisional data reported to ArboNET for January 1, 2015 – May 4, 2016.
US States
Travel-associated Zika virus disease cases reported: 472
Locally acquired vector-borne cases reported: 0
Total: 472

Pregnant: 44
Sexually transmitted: 10
Guillain-Barré syndrome: 1
US Territories
Travel-associated cases reported: 3
Locally acquired cases reported: 658
Total: 661

Pregnant: 59
Guillain-Barré syndrome: 5
Local mosquito transmission of Zika virus infection (Zika) has been reported in Peru. The mosquitoes that spread Zika usually do not live at elevations above 6,500 feet (2,000 meters) because of environmental conditions. Travelers whose itineraries are limited to areas above this elevation are at minimal risk of getting Zika from a mosquito. The following map shows areas of Peru above and below 6,500 feet.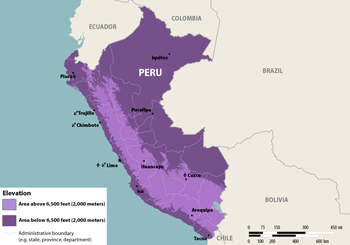 Zika Virus in Pregnancy
A pregnant woman can pass Zika virus to her fetus. Infection during pregnancy can cause serious birth defects.
Sexual transmission of Zika virus from a male partner is also possible, so travelers are also encouraged to use condoms or not have sex.
Many people infected with Zika virus do not get sick. Among those who do develop symptoms, sickness is usually mild, with symptoms that last for several days to a week. Guillain-Barré syndrome (GBS) is a rare disorder that can cause muscle weakness and paralysis for a few weeks to several months.
What can travelers do to prevent Zika?
There is no vaccine or medicine for Zika. Travelers can protect themselves by preventing mosquito bites. Travelers should also cover exposed skin by wearing long-sleeved shirts and long pants. You can also use EPA-registered insect repellents containing DEET, picaridin, oil of lemon eucalyptus, but make sure to always use as directed. Pregnant and breastfeeding women can use all EPA-registered insect repellents, including DEET, according to the product label. Most repellents, including DEET, can be used on children older than 2 months. Use permethrin-treated clothing and gear (such as boots, pants, socks, and tents). You can buy pre-treated clothing and gear or treat them yourself. Stay in places with air conditioning and window and door screens to keep mosquitoes outside. Sleep under a mosquito bed net if air-conditioned or screened rooms are not available or if sleeping outdoors. Mosquito netting can be used to cover babies younger than 2 months old in carriers, strollers, or cribs to protect them from mosquito bites. Sexual transmission of Zika virus from a man is possible. If you have sex (vaginal, anal, or oral) with a man while traveling, you should use condoms.
After travel:
Many people infected with Zika virus do not feel sick. If a mosquito bites an infected person while the virus is still in that person's blood, it can spread the virus by biting another person. Even if they do not feel sick, travelers returning to the United States from an area with Zika should take steps to prevent mosquito bites for 3 weeks so that they do not spread Zika to uninfected mosquitos.
Men who have traveled to an area with Zika but don't have symptoms should use condoms for 8 weeks to protect their sex partners. Men who have Zika symptoms or are diagnosed with Zika should use condoms for 6 months. If the man's partner is pregnant, the couple should either use condoms  or not have sex during the pregnancy.
Women who have traveled to an area with Zika but don't have symptoms should wait 8 weeks after travel before trying to get pregnant.  Women who also have Zika symptoms should wait at least 8 weeks after symptoms start before trying to get pregnant.
If you feel sick and think you may have Zika:
Talk to your doctor if you develop a fever with a rash, joint pain, or red eyes. Tell him or her about your travel.
Take acetaminophen (paracetamol) to relieve fever and pain. Do not take aspirin, products containing aspirin, or other nonsteroidal anti-inflammatory drugs, such as ibuprofen.
Get lots of rest and drink plenty of liquids.
If you are pregnant:
Pregnant travelers returning from Peru can be tested for Zika virus infection.
If you develop a fever with a rash, joint pain, or red eyes, talk to your doctor immediately and tell him or her about your travel.
If you do not have symptoms, testing can be considered 2–12 weeks after you return from travel.